You love hearing them every day on your radio, now meet some of the voices behind The Sound of Charleston, 105.5 The Bridge.
---
Jim "The Critic" Voigt 
With twenty two years of on-air experience and counting, national and regional acclaim, and continuous innovation with such shows as The Critic's Choice Sunday morning program and the Trippin' With The Critic radio travel series, Jim "The Critic" Voigt can readily lay claim to the title of Charleston's most influential and decorated radio broadcaster.
However, the venerable host's key to maintaining a constant level of high quality amidst the ever changing sea of technological advances, is quite conventional. "Keep it simple," he says. And he does.
Favorite Concert Experience
"The Replacements (original lineup) at Heartbeat in Oyster Bay, NY"
Favorite Local Hangout
"The East Montague Avenue Strip in Park Circle, North Charleston"
First Record/Tape/CD You Owned
"The Beatles 'Revolver'"
Music Guilty Pleasure
"The Monkees"
Song You Never Want to Hear Again
"'Hey There Delilah' by Plain White T's"
---
Richard "Box" Bachschmidt    
Born and raised in Tampa Bay (Go Bucs!)…through Nashville…Box made his way to Charleston in 2004.
Radio has always been in his blood. Specifically, MUSIC! He loves hearing new songs and sharing them with listeners. He also loves getting to know listeners – so if you see him around town, make sure you say hi! m/
A true man's man, Box digs going to shows, drinking beer, and a good steak.
Top 5 Bands…
"Van Halen
Sonic Youth
SLAYER (You have to yell SSSSSLLLLLLAAAAAAAAAYYYYYYEEEERRRRRRR!)
Dead Kennedys
Down"
Favorite Concert Experience
"Sonic Youth in Nashville, 2010"
Favorite Local Hangout
"Vickery's during an Oyster Roast"
First Record/Tape/CD You Owned
"My first trip to a record store yielded these 4 45's:
The Police, Don't Stand So Close To Me
Donna Summer, She Works Hard For The Money
Eurythmics, Sweet Dreams
Lionel Richie, All Night Long"
If you could eat one food for the rest of your life, what would it be?
"A Filet from Oak Steakhouse"
Song You Never Want to Hear Again
"If I never hear Tubthumping by Chumbawamba again, that'll be nice."
---
Jessica Turner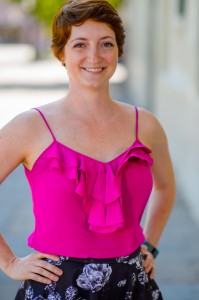 Originally from a seriously small town in Western Kansas (like, the population hovers around 200), Jessica made her way to Charleston via Wisconsin in 2010 to escape the brutal winters.
A graduate of Kansas State University, she is a HUGE Wildcat fan, and also holds a soft spot for the Green Bay Packers.
When she's not keeping Box in line during the morning show, Jessica is a Digital Coordinator with The Modern Connection, and is a co-owner of Head to Tail Day  Spa & Inn on James Island.
She and her husband, Nate, live on Johns Island with their small herd of animals – three cats and a dog.
Favorite Concert Experience
"It's impossible to pick just one! Edward Sharp and the Magnetic Zeros was an amazing show. Other favorites have to include Arcade Fire, Ray Lamontagne and Billy Joel/Elton John."
Favorite Local Hangout
"Any time I can swing an invite to hang out on the beaches of Seabrook Island, I'm there! It's one of the only beaches that allows open container and a fire, which is my idea of a perfect evening."
First Record/Tape/CD You Owned
"The first CD I ever bought (thanks for the BMG membership, mom and dad) was The Monkees Greatest Hits."
Music Guilty Pleasure
"I will belt out some Disney or Broadway soundtracks like nobody's business. Put on some Newsies and I'm a happy girl."
Song You Never Want to Hear Again
"It pains me to say this because they are two of my favorite artists, but Brown Eyed Girl by Van Morrison and Sweet Caroline by Neil Diamond. They are both such talented artists that have been reduced by the masses to one popular song, and it breaks my heart."
---
Wolf of Windermere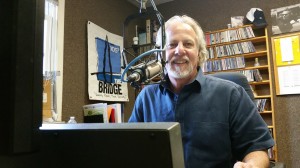 The Early Years
Born in Kansas… lived on a farm and later in Kansas City… think cows and corn… Moved to Michigan.
The Middle
High school and college in Michigan. GO BLUE! After college, got married and had a couple of kids…tried structural engineering drafting, urban planning, construction engineering (Oakland Co), construction engineering (MDOT)… moved to Virginia… got divorced.
Tried construction engineering (private), selling Volvo's, selling Honda/Kawasaki motorcycles, sold computers retail, managed a computer store, got married again, outside sales of computers statewide, regional manager for a regional computer chain, VP of Sales and Marketing for different regional computer chain… moved to Charleston… Got divorced.
The End
VP of (see above), personal trainer and aerobics instructor, Director of Wellness Center for Colleton Regional Medical Center, sold radio advertising, stumbled/lucked/finessed my way into overnights on a soft rock station, was asked to move over to The 105.5 The Bridge…going on eleven years at 59 Windermere…
Favorite Concert Experience
"The Grateful Dead…Hampton Coliseum…September 22-24, 1987…the Halley's Comet Tour…"
Favorite Local Hangout
"Folly Beach – anywhere"
First Record/Tape/CD You Owned
"Johnny Cash at Folsom Prison…"
Music Guilty Pleasure
"50's and 60's jazz…"
Song You Never Want to Hear Again
"Anything by Squeeze or Green Day…oh, and "…I'm watching you watch him…" just creepy…"
---
Kate Sampson
I'm from New England, but moved to Charleston when I was 20. Spent a couple of months in West Ashley before moving out to Folly, where I really found my home. I started as an intern here at 105.5 The Bridge and 98 Rock and "worked my way up" as they say. I love music and REALLY, REALLY, REALLY want to be in a band. So if you are looking to add to your band and are interested in a laid back lady who can shake a glow in the dark tambourine like nobody's business, shoot me an email. katesampson@radioofcharleston.com
Favorite Concert Experience
"This is a 3 way tie. Nickel Creek at the Calvin Theatre, Northampton, MA
Grace Potter and the Nocturnals at the Windjammer, June 2010
Galactic at the Music Farm, September 2012 (credit vargas) (there's a story behind this show…)"
Favorite Local Hangout
"FOLLY BEACH BABY!!"
First Record/Tape/CD You Owned
"The first CD I recall buying was Puff Daddy and the Family's "No Way Out." (I was 12 and thought I was a little badass)"
Music Guilty Pleasure
"Big Band Music and maybe I like Celine Dion's "The Power of Love" a little bit…" 
Song You Never Want to Hear Again
"Anything by Kanye West. No offense, but I do get the vibe that he thinks he is a whole lot cooler than he really is."