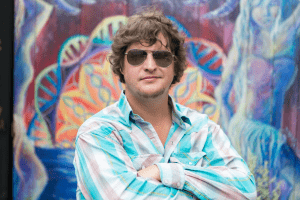 Born in Philly, but raised in Columbia, SC, Potter's a southern boy that roots for the Eagles and Phillies (but he's a proud Gamecocks and Panthers fan, and a closet Braves fan.)
After high school, Potter went to The University of South Carolina where he started out as a Physics major. He then switched to Biology, but the smell of formaldehyde made him puke, so he went into Journalism/Advertising. Potter got into the Food & Bev thing for a while, traveling all over waiting tables, bar tending, and even managed a restaurant. Then, while trying to get into sales at a radio station, he figured he'd try the on-air stuff. In addition to his evening gig with The Bridge, Potter is the host of Happy Hour on our sister station, 98Rock, and is the Operations Manager for both stations.
Potter is the proud papa of two lil' rockers that he says are more important than all the backstage passes and free tickets in the world. Just like most dads on the planet, Potter says he's, "corny, cheesy, I embarrass them a lot, I lose my temper when they won't eat the flippin' food I made, and when I step on LEGOs, and when they fight, and when they complain, and when I find lollipops shoved in between the seats in the backseat of the car." But we think he'll hang on to them for a while.