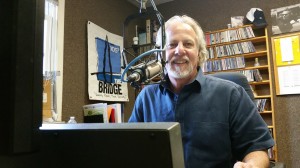 The Wolf of Windermere will get you the latest music news each night from 7pm to midnight on The Bridge. Want to ask him a question or contact him?
Just email him: wolfonthebridge@yahoo.com 
The Early Years
Born in Kansas… lived on a farm and later in Kansas City… think cows and corn… Moved to Michigan.
The Middle
High school and college in Michigan. GO BLUE! After college, got married and had a couple of kids…tried structural engineering drafting, urban planning, construction engineering (Oakland Co), construction engineering (MDOT)… moved to Virginia… got divorced.
Tried construction engineering (private), selling Volvo's, selling Honda/Kawasaki motorcycles, sold computers retail, managed a computer store, got married again, outside sales of computers statewide, regional manager for a regional computer chain, VP of Sales and Marketing for different regional computer chain… moved to Charleston… Got divorced.
The End
VP of (see above), personal trainer and aerobics instructor, Director of Wellness Center for Colleton Regional Medical Center, sold radio advertising, stumbled/lucked/finessed my way into overnights on a soft rock station, was asked to move over to The 105.5 The Bridge…going on eleven years at 59 Windermere…
You can also catch Wolf every Saturday and Sunday from Noon to 6 on The Sound of Charleston, 105.5 The Bridge.