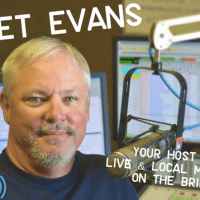 Shape the future today.  (Article from www.mbvcharleston.com)
The world is changing. The question is, what will be our contribution to the outcome? We have set the pace in the field of mobility from the very beginning, and we will continue to do so. At Mercedes-Benz Vans, interdisciplinary teams are developing the mobility of tomorrow. Our goal is to make mobility safer, simpler, and more sustainable for people across the globe. Put your pioneering spirit to good use: This is your opportunity to make a contribution that extends far beyond your job title.
At Mercedes-Benz Vans, we offer you the perfect environment for your professional and personal growth. Cutting-edge training and promising career opportunities will help you to foster and expand your professional skill set as well as your individual strengths. Think, try, and thrive with us in collaborative work environments that spark game-changing concepts.
Crowd-pleasing game day recipes
(Article from CHSTODAY.com)
Photo by: @sesameburgers
Whether you're a die-hard fan or you're just there for the food (guilty), Super Bowl Sunday is a tradition in many households across the U.S.
This year's game (taking place this Sun., Feb. 3) will take place at Atlanta's Mercedes-Benz Stadium. Kickoff for the Los Angeles Rams + the New England Patriots is at 6:30 p.m. At halftime: Maroon 5, Travis Scott, and ATL native Big Boi (formerly of Outkast).
To make sure you're not left sitting on the sidelines, we've rounded up a few game day events– if you're looking to get out of the house– and a handful of go-to recipes submitted by our readers– if you're looking to be this year's meal MVP.
Events for Sunday's big game:
???? Tailgate Party | 12-4 p.m. | Southern Roots Smokehouse | 2544 Savannah Hwy., West Ashley | $28.16 | Tickets include all-you-can-eat oysters, burgers, and hotdogs. Patrons can also enjoy axe throwing with Blade & Bull, beer specials, live DJ, activities for kids, + more.
???? Pre-Game Oyster Roast | 1-4 p.m. | Pearlz Little Oyster Bar | 9 Magnolia Rd., West Ashley | $19 | All-you-can-eat oysters, live music, and drink specials from Palmetto Brewing + Firefly Distillery.
???? Chili Cook-Off | 3 p.m. | O'Brion's Pub & Grille | 520 Folly Rd., James Island | Free | Bring a crock pot of chili for a chance to win a $100 prize. Sign ups begin at 3 p.m., with the contest starting at 5 p.m.
???? Cutty's Annual Potluck | 6 p.m.- 12 a.m. | Cutty's Elliotborough Establishment | 227 St. Philip St. | Free | $2 special on 16oz PBR cans.
???? Bumble SuperBOWL Sunday! | 4:30-8:30 p.m. | The Alley | 131 Columbus St. | Free | Download the dating app to receive a free drink plus first-come, first-serve bowling.
Watch Parties:
???? Mellow Bowl | 5:30-10:30 p.m. | Mellow Mushroom | 19 Magnolia Rd., West Ashley | $38.42 | Tickets include cocktails + beer, a food buffet, ice luge, photo booth, a halftime dance party, + more.
???? Watch Party | 5:30-10:30 p.m | The Alley | 131 Columbus St. | Free | Game squares, $700 in cash + prizes, plus drink + food specials.
???? Watch Party | 6-11 p.m. | El Jefe CHS | 468 King St. | Free | Beer bucket specials and the "largest" video wall in town.
???? Party | 6-11 p.m. | Baystreet Biergarten | 549 E. Bay St. | Free | Haus-roasted local oysters, a hot wing eating contest, + more.
???? Party | 5 p.m. | The Charleston Yacht Club | 17 Lockwood Dr. | $5 | Bring a dish to share and get a drink ticket for beer, wine or soft drink.
???? Party w/ FREE WINGS & KARAOKE! | 6 p.m. | Tin Roof | 1117 Magnolia Rd. | Free | Free wings (while supplies last) and $2 cans of PBR.
Staying in and hoping to score with a touchdown-worthy mac and cheese or Buffalo wing dip? Keep scrolling for a list of our readers' prized recipes.
???? Sausage Dip – Submitted by Caroline H.
What you need:
1 can Rotel diced tomatoes, undrained. Try the hot version if you really want to spice things up.
1 lb of Jimmy Dean sausage Again, option to try the hot version.
8 oz block of cream cheese
What you do:
Brown the sausage. Drain the fat if you prefer to roll that way.
Dump your other two ingredients into the browned sausage. If you're feeling fancy, cut that cream cheese into cubes before you put it in the sausage just to make it distribute a little easier.
Give it a good stir. Serve in a dish with multigrain Tostito Scoops or Frito Scoops- depending on the crowd.
???? Uncle Sal's Pepperoni Bread – Submitted by Matt M.
What you need:
Dough for 1 large pizza
Flour
4 oz Pepperoni, thinly sliced
8.8 oz Bufala Mozzarella (regular cow milk is fine too), ball style, then sliced
4 oz grated Asiago cheese
Extra Virgin Olive Oil
Coarse salt
What you do:
Heat oven to 375
Lightly grease 18" oven pan
On a floured surface, Roll out dough to a large rectangle (12 x 18")
Arrange and evenly distribute sliced pepperoni, mozzarella, and Asiago over the dough.
Fold over longways about 4" so you get 3 folds over.
Tuck and seal the dough all around
Brush with EVOO, Sprinkle salt (depending on taste)
Using a regular dinner fork, poke fork about 8-10 times over the top of the roll to allow steam to escape during cooking.
Cool 45 mins or until golden brown.
Bring to your party whole and wrapped in foil.
Reheat 15 mins uncovered
Slice and serve
What you need:
2 oz. bourbon
½ cup ice
Coca-Cola
What you do:
Fill an ice tray with Coca-Cola (about a can and a half) and freeze. Combine all ingredients in a blender and blend until they form a slush. Pour into a glass and, if you like, garnish with a cherry or a slice of lime.
Serving Size: 8-10 Mini Sliders
What you need:
Burger toppings:
1 Tomato, Sliced
1/2 Red Onion, Thinly Sliced
1 cup Romaine Lettuce
1/4 cup mayo
Sweet Potato *Buns*
2 Medium Japanese White Sweet Potatoes
1 tbsp. Avocado Oil
Salt and Pepper
What you do:
For Sliders:
Preheat grill or nonstick skillet.
In a large bowl, combine the ground chicken, salt, pepper, cilantro and Noble Made Medium Buffalo Sauce. Mix until just combined. Form into patties.
Grill or pan-fry patties until browned on both sides and cooked through, about 5 to 8 minutes.
For  Sweet Potato *Buns*:
Preheat oven to 350 F.
Slice potato width-wise into 1/2-inch medallions.
Brush with avocado oil and sprinkle with salt and pepper.
Place on baking sheet in a single layer and bake for 15 minutes.
Flip and bake for an additional 15 minutes, or until cooked through.
Assemble with toppings.
Bonus: this recipe is Whole30 & Paleo approved.
What you need:
16 oz macaroni noodles
16 oz Monterrey jack, cubed
16 oz Colby jack, cubed
16 oz Velveeta, cubed
1 stick butter, slices
16 oz heavy cream
salt
What you do:
Spray crock pot with cooking spray. Cook the noodles in a pan on the stove
Layer 1/3 macaroni then 1/2 cheese, butter and salt. Repeat ending with last 1/3 macaroni on top.
Pour milk over.
Cook on low for 3-4 hours, stirring every 30 minutes.
???? Not yo potatoes – Submitted by Consuelo C. 

What you need:
5 large baking potatoes thinly sliced like a chip
1/2 cup olive oil
1 package vegan chorizo
I package vegan meat crumbles
I large sweet onion
2 cans Rotel tomatoes and pepper (spicy)
4 tablespoons chili powder
1 tablespoon minced garlic
2 packages shredded sharp cheese or cheese substitute
3 large avocados
1 small tub sour cream or sour cream substitute
What you do:
Slice and toss potatoes in 1/4 olive oil. Spread onto baking sheets 375 until brown flip halfway through. About 45 minutes.
Brown onion /chorizo /crumble with 1/4 olive oil until almost crispy.  Add Rotel chili powder and garlic. Simmer on very low.
Once potatoes are cooked layer them in a casserole dish. Top with "meat" mix and cheese. Broil until cheese is browned.
Top with remaining ingredients and whatever else you may like on your not yos!
???? Buffalo Chicken Wing Dip Recipe – Submitted by Justine M. 

What you need:
1/2 cup bleu cheese dressing. You can substitute Ranch, but then it's not authentic Buffalo wing dip. Trust me, Buffalonians don't use ranch.
2 cups shredded cooked chicken. You can boil the chicken and shred it with a fork or with a food processor.
1/2 cup shredded cheddar cheese
What you do:
Preheat oven to 350.
Combine all ingredients in a medium bowl, then scoop into a baking dish.
Bake 20 minutes or until cooked through.
Serve with fresh carrots, celery and tortillas chips for dipping.
What you need:
8-oz. plain hummus
1/2 cup hot sauce (I used Frank's)
1 clove garlic, minced
1-2 Tbsp. minced fresh parsley, plus more for topping
1/4 cup shredded mozzarella, plus more for topping (optional, vegans use vegan cheese or nutritional yeast!)
1 14-oz. can chickpeas, drained and rinsed well
What you do:
Preheat the oven to 350 degrees F.
Add hummus, hot sauce, garlic, parsley, and cheese to a food processor, and blend until smooth.
Pulse in chickpeas until the mixture is chunky and the chickpeas have broken down a little. You'll still want a little texture here.
Pour dip into a baking dish of your choosing and bake 20-30 minutes, or until the dip is nice and hot.
Top with fresh parsley, and serve with corn tortilla chips or carrots
Evans Green Tip of the Day
Can you forage or hunt for food, find a mate, and raise your young… without becoming someone else's lunch?
Welcome to Wildlife Web, a game where you participate in the web of life.
     Wildlife Web is an exciting, dynamic game of strategy where adventure, luck, and cunning provide hours of fun for family and friends.
This educational new game competes with electronic devices for kids' (and adults') attention and keeps us engaged with each other and the real world.
Do you want to be a mountain lion, deer, or elk? This surprisingly realistic game enables players to experience life as any of 50 different animals, and each animal has a mate.
How do you strategize to eat, mate, stay alive, and pass your genes along to the next generation? Each animal has a special survival rating, plus unique abilities to help when hunting or defending against predators…
Are you a carnivore, herbivore or insectivore?
A fox has special abilities and strategic advantages, but so does the whitetail deer, robin, and squirrel. Which animal is better… the moose or the mouse? Select your starting Pack of animals carefully, and the race is on to pass your genes along to the next generation.
Wildlife Web includes:
100 Wildlife Cards (50 animal pairs)
50 Event Cards
25 Forage Cards
14 Offspring Cards
6 Game Play Cards
4 Highway Cards
1 Day/Night Card
Rule Book:   See Rules Book Preview (PDF)
2 Dice
Ideal for 2 to 6 players, ages 9 to 99 (2 player set-up shown)
     Wildlife Web is both competitive and cooperative. On the one hand, the game features classic predator-prey relationships where mountain lions hunt rabbits, deer, elk, or bison with the roll of the dice.
On the other hand there is cooperation as robins warn the deer as a mountain lion approaches. Your deer gains 2 extra defense points for every robin on the table.
Fifty random Event Cards introduce everything from hailstorms to bird alarms that can help or hinder your quest for survival.
Just like in real life, a highway runs through the game, forming a deathtrap for some species and an opportunity to scavenge for others.
A Day/Night card alternates play between diurnal and nocturnal animals so your bat is safe during the day while your hawk can go hunting.
With thousands of potential interactions and many uncontrolled factors, the game is never the same… except that you will have fun every time.
Wildlife Web simulates the dynamics of a real world ecosystem with astonishing accuracy. With fifty animals to choose from, players can become anything from a mouse to a moose or a bird to a bear, each foraging or hunting for food to mate and reproduce while trying not to become food themselves. The game is fun, competitive, and addictive!
How to Play Wildlife Web
Wildlife Web has evolved into something better than I originally envisioned 6 years ago when playing Pokémon with my son. It not only gets kids excited about wildlife, but also introduces them to bird language and reconnects them to nature.
At a time when electronics have stolen our young people's attention, Wildlife Web re-opens a door to the real world. What adventures await you and your family?