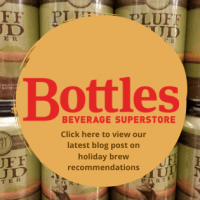 | | |
| --- | --- |
| Thanksgiving is right around the corner!! Beer buyer Zach Issacs of Bottles Beverage Superstore gave some recommendations on holiday brews to pair with holiday meals. Steering away from the hoppy beers for Thanksgiving and focusing more on slightly maltier, full-bodied with a touch of sweetness brews including Holy City's Pluff Mud Porter, Munkle's Brugge City Brune, Founder's CBS, Belhaven's Scottish Ale, and the Augustus Weizen Doppelbock. | |
| | |
| --- | --- |
| | BLACK FRIDAY ALERT: Goose Island drops their Bourbon County Brand Stout each year for Black Friday. This year, the 2019 limited special edition variances of the stout that Bottles will also have is the Bourbon County Café de Olla, the Bourbon County Mon Chéri Stout and the Bourbon County Wheatwine. Get to Bottles Beverage Superstore at 610 Coleman Blvd in Mt. Pleasant early to grab these limited-edition brews, they will sell out!! |
See below for the breakdown for some of the brews that Zach is recommending. Cheers and Happy Thanksgiving!!
Local options for your holiday festivities:
Munkle Brewing – Brugge City Brune

Their brune uses a dark Belgian Candi syrup made from beet sugar for a hint of sweetness, and lightly kilned malts for toasty, fresh-baked bread notes. The result is malty and complex with a dry finish and lots of fruity Belgian yeast notes.
Holy City Brewing – Pluff Mud Porter

"Pluff Mud – A mixture of dirt and water indigenous to the marshes of the SC Lowcountry, with a distinct odor that is endearing to locals, but off-putting to tourists and redcoats."

Holy City Brewing's Pluff Mud Porter is their second flagship beer with an effort to bring the American Porter style to the Charleston proper, while also making a beet that stays appealing as the mercury rises. It presents and smells like a classic porter with subtle chocolate notes and a silky finish, but the medium body and tame ABV keep it refreshing at all times.
Import options for your holiday festivities:
Founders Brewery – CBS

CBS was born when the brewery stumbled upon some bourbon barrels that had previously housed maple syrup. They opted to put the same base beer as KBS, an imperialized version of Breakfast Stout, in the maple barrels and, after one taste, they knew they had something special. Rich maple syrup roasted coffee and velvety chocolate meld together in what can only be described as a transcendental drinking experience.
Belhaven Brewery – Scottish Ale

Belhaven Breweries signature Scottish Ale is the beer they've brewed the longest and is their best-selling bottle world-wide. Brewed from 100% Scottish Optic and Crystal barley malts for a nutty, biscuit character, balanced with a subtle spiciness from Challenger and Goldings hops for an all-around satisfying beer.
Brauhaus Riegele Brewery – Augustus Weizen Doppelbock

As the "Emperor" of the Weizenbocks, Augustus achieves strength and character through its own unique yeast strain which is combined in a two-mash brewing process with Pilsner malt, wheat malt, and Munich malt. The result: a gold medal-winning, robust yet smooth, wheat beer that has established an international following.