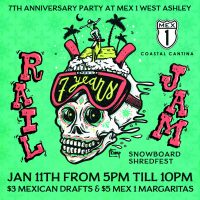 Forecasters are calling for a 100% chance of snow in Charleston this January!!! That's because Mex 1 West Ashley is bringing in over 20,000 pounds of snow and turning their front parking lot into a giant Terrain Park for their annual Snowboard Rail Jam! Grab a front-row seat and sip on City Paper readers' choice for "Best Margarita," then watch as riders compete to be crowned Charleston's "King of the Rail!" The contest will have snowboarders flying, flipping, and sliding onto a massive rail and kicker as hundreds of spectators cheer them on. This is the 4th year Mex 1 has hosted this event and each year competitors keep upping the ante to impress the crowd! Don't miss one of Charleston's most talked about parties of the year!
With Snowboard Rail Jam commemorating Mex 1 Coastal Cantina's 7th anniversary, there will be plenty of fun for all including live music from Strawberry Squad and an outdoor bar and drink specials. It's all going down on January 11th from 5-10p at the Mex 1 flagship location at 817 St. Andrews Blvd in West Ashley. Tickets are $15 in advance or $20 at the door, kids 12 and under are free. More information is available on the Mex 1's Facebook event page. Riders interested in competing should email Morgan@mex1can.com.
Check out last year's highlight video below!