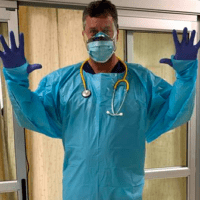 Dr. Morris Gitter was nominated as a community hero by his wife, Alyssa! Here's what she had to say about what he's been doing for our community during the pandemic.
"This guy is an ER doctor, father of 3, husband, son, brother, friend to many. He has worked many sleepless nights round the clock to care for covid patients. He has driven all over the Southeast to work in underserved areas that have no ER doctors. And he somehow has managed to FaceTime his kids multiple times a day to tell them how much he loves him. Morris deserves this more than anyone I know!"
Thank you for being a community hero, Dr. Morris Gitter!