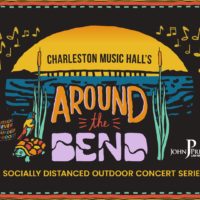 Charleston Music Hall's Around the Bend: A Socially Distanced Outdoor Concert Series
The series allows safe social distancing by providing 250 squares at 10 x 10 feet each, limiting the squares to a maximum of four people per square from the same party. Reserve a specific square when purchasing. A six-foot aisle between squares provides ample room for social distancing while navigating the concert site, and masks are required if patrons leave their square to visit the facilities.
No food or drink will be sold at the events to avoid crowding and contact. Concert goers are permitted to bring their own food, drink, beer, wine, coolers, blankets, and chairs. An option to rent furniture will be emailed to ticket buyers, made possible by OOH Events.
The Bend, located at 3775 Azalea Dr. in North Charleston, features 20 acres of beautiful green space on the Ashley River. For all events, gates open at 5 p.m., and shows start at 7 p.m. Concert-goers sharing a square are required to arrive together and can take advantage of one FREE on-site parking spot. Patrons are encouraged to arrive early to create an easier and safer ingress and seating. There are no openers, and all acts start at 7 p.m. 'Around The Bend' series events are planned for rain or shine.
– Saturday, October 3 – The Legacy of Motown featuring Charlton Singleton & Friends
– Friday, October 9 – SUSTO
– Friday, October 16 – Queen of Soul: A Tribute to Aretha Franklin featuring Black Diamond & Black Noyze
– Friday & Saturday, October 23-24 – Shovels & Rope
-Sunday, October 25th – Marcus King Trio
– Friday & Saturday, October 30-31 – St. Paul & The Broken Bones
-Friday & Saturday, November 6th & 7th – Jason Isbell and Amanda Shires
– Saturday, November 14 – Ranky Tanky
Tickets will be sold in quantities of four, and parties sharing a square are required to arrive together. If available, tickets can be purchased onsite the day of event, but patrons are highly encouraged to pre-purchase online.
The Legacy of Motown featuring Charlton Singleton & Friends

Saturday, October 3rd

$120 Per Square
SUSTO

SOLD OUT

Friday, October 9th

$120 Per Square
Queen of Soul: A Tribute to Aretha Franklin featuring Black Diamond & Black Noyze

Friday, October 16

$120 Per Square
Shovels & Rope

$200 Per Square

Friday, October 23

SOLD OUT

AND

Saturday, October 24

SOLD OUT
Marcus King Trio

$160 Per Square 

Sunday, October 25

SOLD OUT
St. Paul & The Broken Bones

$200 Per Square

Friday, October 30

SOLD OUT

AND

Saturday, October 31

SOLD OUT
Jason Isbell and Amanda Shires

$300 – $400 Per Square

Friday, November 6

SOLD OUT

AND

Saturday, November 7

SOLD OUT
Ranky Tanky

Saturday, November 14

SOLD OUT

$160 Per Square