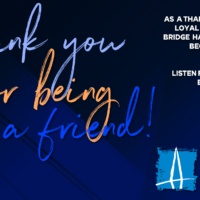 Thank you for being a friend!! 
Thank you for your continued support. To show our thanks we'd like to offer you the opportunity to become $1,000 richer each weekday!!
HOW TO PLAY: It's easy! Listen for the for the daily 3 special words. The more words you enter, the better your chances of being awarded $1,000! 
When you hear it, click the graphic below & enter your special word for your chance to be awarded $1,000. It's just that easy! Good luck!
Please click HERE to view the complete rules for the 'Thank you for being a friend!' Cash contest
Click HERE for 105.5 The Bridge's General Contest Rules
Sponsored by Heaven's Marketplace
**This is a national contest.** No Purchase necessary to ENTER or WIN. Must be 18 years or older & is open to US residents only.