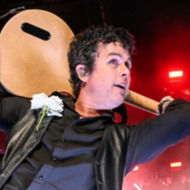 Green Day waved goodbye to 2022 by playing a set with their covers side-project The Coverups – watch them cover Nirvana, Ramones and more below.
The side project, made up of Green Day's Billie Joe Armstrong and Mike Dirnt, began in 2018 as a covers band. The group also features Green Day touring musician Jason White.
Most recently, they paid tribute to Jerry Lee Lewis during a special gig last October. As part of their gig at Los Angeles' Moroccan Lounge, the band shared a rendition of 'Great Balls Of Fire' as a tribute to Lewis, who passed away the week before aged 87.
On New Year's Eve, they played Hollywood's legendary Viper Room, playing a 23-song covers gig across two sets, with versions of tracks by The Cure, David Bowie and more.
See the full setlist from the gig and footage below.
1. 'A Million Miles Away' (The Plimsouls cover)
2. 'I Wanna Be Sedated' (Ramones cover)
3. 'I Want You To Want Me' (Cheap Trick cover)
4. 'Ready Steady Go' (Generation X cover)
5. 'Rockaway Beach' (Ramones cover)
6. 'I Think We're Alone Now' (Tommy James & the Shondells cover)
7. 'Message Of Love' (Pretenders cover)
8. 'Just Like Heaven' (The Cure cover)
9. 'What I Like About You' (The Romantics cover)
10. 'Hit Me With Your Best Shot' (Eddie Schwartz cover)
11. 'Color Me Impressed' (The Replacements cover)
12. 'Don't Change' (INXS cover)
13. 'Fox On The Run' (Sweet cover)
14. 'Ziggy Stardust' (David Bowie cover)
15. 'Dancing With Myself' (Generation X cover)
16. 'Born To Lose' (The Heartbreakers cover)
17. 'Hybrid Moments' (Misfits cover)
18. 'Teenagers From Mars' (Misfits cover)
19. 'Ever Fallen In Love (With Someone You Shouldn't've)' (Buzzcocks cover)
20. 'Auld lang syne' (Robert Burns cover)
21. 'Neat Neat Neat' (The Damned cover)
22. 'Drain You' (Nirvana cover)
23. 'Suffragette City' (David Bowie cover)