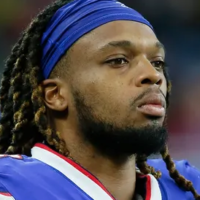 A representative for Buffalo Bills safety Damar Hamlin reportedly offered an update Wednesday on the player's health as he remained in the University of Cincinnati Medical Center following a medical emergency.
Doctors at the hospital got "promising readings that they had been hoping to see," ESPN reported, citing Jordon Rooney and the Hamlin family. Rooney reportedly added that it appeared "progress" was made. Hamlin was still in the ICU sedated and considered to be in critical condition.
Rooney also clarified to the outlet that Hamlin needed to be resuscitated only once – at Paycor Stadium. Dorian Glenn, Hamlin's uncle, told CNN on Tuesday night that Hamlin's heart needed to be restarted for a second time.
Rooney also cautioned that Hamlin still had a "long way to go in his recovery" but the family was optimistic.
"They are elated right now," he added to the Associated Press. "Damar is still their first concern. But for them, they always look at how they can turn a somewhat troubling situation into a good one. The bounce back from this, for him and his family is going to be incredible."
Rooney has said he is Hamlin's friend and marketing rep. He released a statement on behalf of the family on Tuesday afternoon. It is unclear how close he is in touch with the medical doctors working on the player.
Glenn talked to the NFL Network on Tuesday night and offered more optimism on Hamlin's condition. He said Hamlin improved to 50% oxygen on a ventilator.