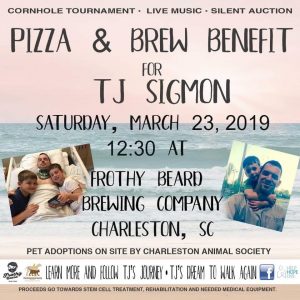 Come out and support a local cause on March 23, 2019 at Frothy Beard
Brewing Company for TJ's Dream to Walk Again. The event will hold a
cornhole tournament, have Live Music and a DJ, on site pet adoptions
through Charleston Animal Society, treats with The Holy City Cupcake
truck and jump castles courtesy of Art of Bounce jump castles. The
main feature is the Silent Auction…from trips to food to autographed
memorabilia and things to do, clear your calendar because you're not
gonna want to miss this! Follow TJ on his journey on Facebook @TJ's
Dream to Walk Again.
On February 11, 2017 our lives were forever changed. While visiting family in Charlotte, NC a motorist that was not alert to my husband on his motorcycle came over into his lane making contact with his bike and the results were catastrophic. When the vehicle made contact with his wheel it caused it to hit the curb throwing him 10-15 feet in the air and into a tree. After striking the tree he was thrown 75 feet landing head first under a parked car in someone's yard. Fire and EMS had to jack the car up to get him out from under it.
The accident happened right outside of TJ's brothers neighborhood.  As we exited the neighborhood all four lanes of traffic were at a complete stop. EMS and fire were already gone only police remained waiting the arrival of a tow truck. I saw his motorcycle in what was later counted to be 27 large pieces and four 5 gallon buckets of smaller pieces… and I fell to my knees in tears. I thought I was never going to see him again. It was 3 hours later before we got to see him, what seemed like an absolute eternity, but I was SO incredibly thankful he was alive!! But this was all just the beginning of a huge turn in our lives we never saw coming.
TJ had suffered a spinal cord injury that severed his spinal cord and broke his C6-C7-T1 leaving him now, a quadriplegic.  He has no feeling from the chest down or use of his hands. He also suffered a fracture of four ribs, T1-T6, C-2 and multiple head and face fractures. His greatest fear was now his reality. In the next couple days he struggled for his life as his lungs were collapsing. But he fought and persevered. On February 14, Valentine's Day, TJ asked me to marry him.

We left Charlotte and he was transported on February 28th to The Shepherd Center in Atlanta, GA. A hospital that specializes in Brain and Spinal Cord Injuries. We remained there until June 9. During this time I watched TJ experience every emotion possible and within every right to do so, I can never begin to imagine what he must feel everyday. Monday through Friday was filled with rehab from 8am-4pm and regardless of the pain, he pushed through. Through his pain and his struggle he took it upon himself to do anything he could to bring a smile or laughter to others as they endured their challenges. TJ has always been the type of person to go out of his way to help someone else and regardless of the circumstances that desire has never left him.
In spite of the months of rehab, TJ did not gain back any functionality and upon our return home to Charleston, SC his reality has been incredibly bitter. TJ has two sons ages ten and six and the inability to interact with them as before has broken his heart and his spirit, the struggle for him is incredibly difficult and my heart breaks for him and I would take his place if I could. Being unable to care for himself, I am now also his full time caregiver. I must use what is called a Hoyer lift to place him in his power wheelchair and into bed. I must turn him every few hours in bed to prevent sores. I must take care of his bathroom needs and give him his medications on schedule. He needs my help to eat and to drink. We work as a team and make everyday the best that we can.
God has a reason why he's still here and it's because his boys need him. I need him and every person that loves him, needs him. His two sons now reside with us full time.
We've researched Stem Cell treatments and that, with increasing medical expenses and need for medical equipment, is purpose for which we will be holding this benefit, to allow every opportunity possible to him to allow him to get back on his feet. His surgeon told us he had a 93% chance of never walking again and we plan to prove him wrong!
Please join us for the Pizza and Brew Benefit!!