Radio is one of the most effective forms of advertising, with a proven ROI. We can help any business, regardless of size, reach their audiences with creative, engaging and fun solutions.
Interested in advertising with The Bridge? Contact our Sales Manager, Paul Smith, to see how we can help you!
Meet some of our savvy sales staff:
Paul Smith
General Manager/Sales Manager

Bio coming soon.
---
Katie Redfearn
Marketing Consultant/Entertainment Coordinator
A true Carolina girl, Katie grew up in Hickory, NC, and after vacationing for many years with her family in Charleston, SC, she decided to make a move and call Charleston home!
Katie graduated from the College of Charleston with a degree in Business Administration and Marketing. With more than 10 years of experience in media advertising and B2B sales, it's her mission to help local business owners get results. Along with helping businesses market their brand, Katie also works with many local, regional, and national promoters to support many of the concerts and events in Charleston.
Katie is a mother of a furry, 4-legged baby named Radley, and loves taking him to the beach or to the park. There's also a good chance you'll find Katie supporting live music, rooting on the Carolina Panthers, or shooting a game of pool.
Favorite Local Hangout
"Folly Beach"
Music Guilty Pleasure
"G. Love and Special Sauce…could listen to G play all day, every day."
First Record/Tape/CD Owned
"Meatloaf: Bat Out of Hell II:  Back into Hell"
---
Jill Varner Crawford
Senior Marketing Consultant
Jill is a native of Charleston, and attended Trident Technical College, where she studied Business Management. She began her career as V.P. of Media Planning & Buying for an advertising agency, representing a broad spectrum of local businesses, including automotive, real estate, restaurants, retail, financial, industrial, medical and more. After 8 years, Jill switched to the sales side, and began her career in radio broadcast sales in Charleston in 1994. Jill has extensive knowledge of the Charleston market, and a successful track record of helping local businesses grow and achieve their goals and return on investment.
Jill has a large extended family who have all remained in Charleston, with the exception of her two daughters, Lauren and Jenna, who now reside in Brooklyn, NY. In her spare time, Jill loves cooking, movies, boating and fishing, attending concerts and sporting events and, of course, visiting her girls in New York City.
Favorite Local Hangout
"Hmmm don't have a favorite – there are too many places in Charleston to choose from!"
Music Guilty Pleasure
"I love ALL music"
First Record/Tape/CD Owned
"Michael Jackson" 
---
Dan Williams
Marketing Consultant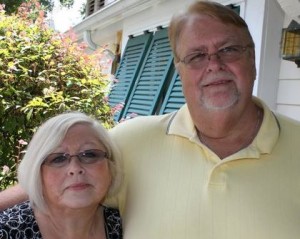 Advertising, radio, and creative copy ideas have been my life's work for the past 47 years. I started in this business way back in 1967 while I was still a Senior at Marion (Virginia) High. At 19, I was working on air at WROV, the top rated radio station in the entire state. I directed programming at WOLD and WYVE before joining Bristol Broadcasting, a top notch radio group, where I had the good fortune of working with my dear friend, Jack Martin, the father of Lynn Martin, owner of WYBB and WCOO. Since 1977 I have been in sales and marketing, first at Bristol Broadcasting, then at the legendary Big WAYS and WROQ in Charlotte and later at WSOC, owned by CBS Broadcasting. During all these years my main focus has been on servicing the needs of my clients, developing ideas that would bring them success, and making sure of their satisfaction. I have been very fortunate to have been married to my beautiful wife of 44 years, Shelia Jean, a highly creative person who offers ideas and advice for my clients and myself. It would be an honor to offer you my experience, abilities, and creativity to solve your advertising needs.
Favorite Local Hangout
"At home in front of our TV."
Music Guilty Pleasure
Have a love for all types of music
First Record/Tape/CD Owned
First album (big old 33 1/3 vinyl) "Meet The Beatles" featuring "I Want To Hold Your Hand"