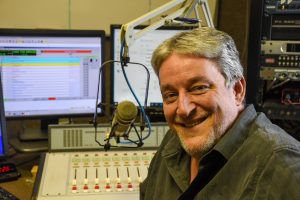 MORE MUSIC MORNINGS with RICHARD TODD
Tune in for More Music Mornings with Richard Todd


Weekdays 6am to 10am
HOMETOWN:  I was born in Decatur, Alabama but grew up in Greenville, SC.  Went to college at the University of SC (Class of 1990).  Started visiting Charleston in the 70's & moved here full-time in 1991.
HOBBIES:  Live music & concerts, good food and being a tourist in my own town & exploring all the Lowcountry has to offer…though sleeping in occasionally is good too!
FAVORITE BANDS:  Phish, Grateful Dead, Coldplay, Foo Fighters, Elton John, The Band…I listen to everything from bluegrass to jazz to all kinds of stuff.
BANDS/ARTIST I'VE MET:  Too many to mention!  I have had the good fortune over the years to meet lots of artists through my job.  Let's just say, "I've got stories!"
FIRST RECORD/TAPE/CD I OWNED: First record was Elton John's "Caribou".  Led me to take 7 years of piano!  First tape was Billy Joel's "The Stranger".  Another piano man!  First CD was U2's "The Joshua Tree", which came out as one of the first CD's.
SONG YOU NEVER WANT TO HEAR AGAIN: Too many to list & all the usual suspects!
FAVORITE FOODS: Southern cooking rules!  My last meal would be surf n turf (lobster w/steak), mac n cheese (my Mom's) with creme brulee for dessert
COCKTAIL: Always up for a bourbon & coke
FAVORITE LOCAL HANGOUT: Besides my house?  You'll probably find me somewhere in Park Circle or seeing live music
VACATION SPOT:  Since I live near the beach, anywhere but a beach.  Nothing like seeing the world!  Italy is always amazing & maybe the best place in the world is standing on the Charles Bridge in Prague,  So much to see, so little time & money.
BOOKS: Mainly a non-fiction guy & a good biography
MOVIES: Too many to list & all the usual suspects.  I have seen a lot and love to be challenged & amazed on the big screen
TV SHOWS:  Again, too many to list & all the usual suspects.  As I'm writing this, Ozark, Better Call Saul, Deadliest Catch…Breaking Bad is probably the best show in scripted TV history.  Band of Brothers & From the Earth to the Moon are all-timers.  My old friend television!
FAMILY:  My son Tyler is a cadet at The Citadel & graduated from Wando High School as part of the amazing Wando High School Marching Band.  My late wife Mary passed away in 2012 at the age of 44 after a 3 1/2 year battle with breast cancer.  She was an amazing lady in so many ways & my son and I still miss her so much.  Parents & my younger brother all live in the Upstate.
BRUSH WITH GREATNESS THAT DIDN'T GO WELL: Worst conversation I ever had was with Serena Williams at the tennis center on Daniel Island.  I love her as a player but she had no interest in talking with me even though it was being filmed for a TV show.  She was on her phone the whole time so I started asking questions about clothes & food & travel and she said "You look good today…kind of sexy".  I saved that sound bite & played it on the air for years.  Only good thing to come from that chat!